Hey Y'all 
Do you have a problem with asking for what you want? I didn't always ask for what I wanted because when I did it got me in trouble. I once asked a guy I was seeing for better communication and I didn't hear from him in two weeks. LOL..Needless to say, when he came back I told him to go back where he came from. 
I realize that everything is tied together. When I attempt to figure out where the breakdown came from that scenario sticks out in my head but it's origin came from my relationship with my dad. My Earthly father set the tone for everything. My earliest memory of asking for something was when I discovered fashion. We didn't have the best relationship but I felt that I had grounds to ask for something when I did something. So when I got honor roll, I thought that was the perfect time. He quickly let me know that that accomplishment was for me but I still got my Guess jeans. That shaped my thought process for a long time and I thought my asking power was based off of deeds. It wasn't his fault. It was mine but what that did create was a blueprint for my thought process. It didn't make me scared to ask but I thought I wouldn't get what I wanted or needed if I didn't do something to support it. I guess it was a type of manipulation. This happened with friends, boyfriends and pretty much all of my interactions. I gave and gave until ended up depleted thinking that at some point they would realize how much I did and would naturally be there for me when I needed them. It never happened.
With that particular boyfriend, I gave a lot to him so I thought it could ask for something simple that would enhance our relationship for he and I. Clearly that backfired. Even in younger relationships, they would all come to a point when I felt that it should go to the next level. I tried to allow it reach it's natural climax but when I saw no progress I felt lead to ask but there was always a lurking fear that it would cause them to retreat. Did I run him away? Maybe, but once I matured I realized I'm good with that. He couldn't give me what I needed. He just did a physically others had done mentally…just shut down. Maybe I was beyond my time or maybe they were the wrong people. I don't know. What I do know is that I felt rejected and didn't know how to fix it. The only solution I could come up with was to quiet myself and go with the flow, silently killing off what made me me. The crazy thing is it didn't help things because I was still single and very much blaming my dad for all of my failed relationships.
It wasn't until I decided to take responsibility of my actions and my thought process to understand that it wasn't on them; it was on me. I had to get back to me. So I started asking questions again. Wanna know a secret? I still struggle with this. I dubbed myself "socially awkward" because I don't always feel comfortable speaking up for myself but I'm working on it.
The picture is meant to be funny but to be serious, I believe where I went wrong in these relationships was me putting so much pressure on people, expecting them to do what I would've done. Nothing was wrong with my asking for what I wanted or needed. Sometimes we expect things people that we can only get from God. When I tapped into God things opened up for me. I understood that there was a system, a system based off of deeds, which was the law. Nothing was wrong with the law. It was a great measuring stick but no one could meet the expectations of that standard because of our sinful nature. Jesus rescued us from having to pay the penalty of everlasting death and He came so that we might be under another system called, Grace. A system that isn't dependent on what I deserve (I deserve death, btw…we all do) but because of Him I have favor that qualifies me to receive everlasting life. If you wanna know why I love God…that's why. I was going down one road always feeling like I had to prove myself with relationship resumes but I didn't have to prove myself with God, He loved me just as I was and even now, as I am. I began by asking for salvation and I was saved…no fast talking commercials, tiny words or sike-me-outs, just you want salvation, ask and it's yours.
If you abide in me, and my words abide in you, ask whatever you wish, and it will be done for you.-John 15:7
I want to be clear, making effort isn't a bad thing. We have to make effort in relationships and that includes our relationship with God. If you want change, you must become the change you want to see. If you want God, you have to have a real life relationship with Him and it takes effort. If you want salvation, so that you can abide in Him, ask for salvation, it's not cheap. Jesus paid the price for our sin and it was His death on the cross. It was brutal. There was a cost and He gave His life for ours that we might have everlasting life. He saw us and thought we were worthy; therefore, you don't have to prove yourself. It is finished. As a believer, good deeds happen naturally because you understand the gift you've been given so you want to give back, not because of manipulation. The King is still in the Field, ask Him for what you want.
If you want salvation, ask this with your mouth, not under your breath:
"Dear God, I want to be a part of your family. You said in Your Word that if I acknowledge that You raised Jesus from the dead, and that I accept Him as my Lord and Savior, I would be saved. So God, I now say that I believe You raised Jesus from the dead and that He is alive and well. I accept Him now as my personal Lord and Savior. I accept my salvation from sin right now. I am now saved. Jesus is my Lord. Jesus is my Savior. Thank you, Father God, for forgiving me, saving me, and giving me eternal life with You. Amen!" 
Welcome to the family. I love and support you.
Let's chat: What has your experience looked like when you've asked for things? Have you always received what you asked for? If you didn't, how did you handle it? Are you someone who hates asking for things you need? Why?
I ask these questions not to get in your business but this is a community. We should get to know each other and not be like those neighbors who you know saw you but try to look the other way. We can support each other by being transparent.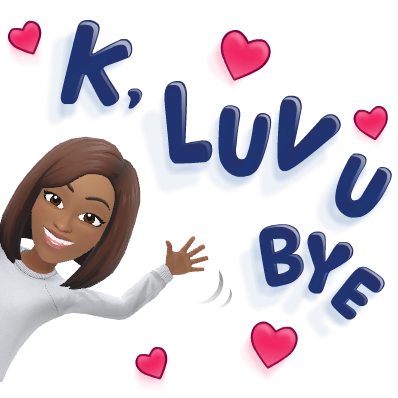 Beebz ❤