Hey Peculiars 
I told you guys before that I had to teach on Saturday and I got a little cute. The stand out piece in this Outfit of the Day is my dress which is currently on sale from $40 down to $28. Be sure to check out the link in the outfit details below and if you do purchase it, don't forget to tag me when you wear it so I can see how you rock it. Also don't forget to check out the tags below to find the code for 20% off.
By now, you all should know that I'm all about the details when it comes to my wacky wardrobe and although this dress looks simple, the asymmetry of the bottom hem takes it over the top! It's not the dated asymmetry you typically think about when you hear the word. You know, the typical diagonal line?  Here two different dress lengths offer an unexpected twist.
Although, sporty, it was surprisingly difficult to settle on a shoe. Due to the dress' differing lengths, I didn't think athletic shoes would do it justice and heels would've been too dressy. So I decided on these guys which are a little more interesting than the average sneaker. I'm not gonna lie, I didn't know if it would work since the shoes didn't pick up any one of the colors from the two toned dress. I wouldn't have second guessed it if the black in the shoes were gray, but overall I liked the way it turned out.
Here's what I wore:
I kept my makeup really simple and added a few minimalistic pieces which were small silver hoops and a rose quartz silver necklace. What do you think of this? Was it a look? What would you have changed? Let me know in the comments.
Outfit Details:
Dress-Asos
Shoes-Zara
Necklace-TJ Maxx
I hope you all enjoyed this post. If you did, let me know by giving it a like and a comment and if you haven't already, go head and subscribe so that you can become Peculiar (see the contact page.) Anyway, I love you all and as always Stay Peculiar!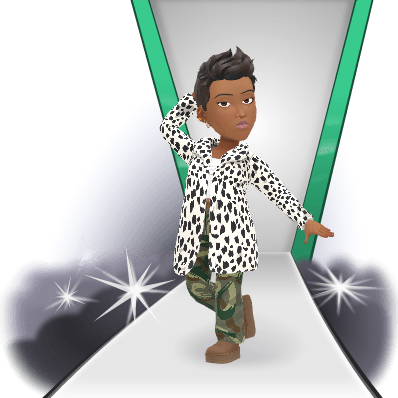 And don't forget to make the world your runway!!
Beebz ❤