Heeeyyy
Can't believe it's Friday already. Last weekend I told you guys I taught my lesson on the Hebrew Aleph bet associated with tribes on the southside of the Tabernacle. I felt like I was all over the place but people said they were blessed, so that makes me happy. Honestly, I
don't like to walk away feeling like I could've done better, so next month, it's on like popcorn. I do wanna start working on putting that information in post next week so that I can post that for you all really soon, so be on the lookout for that. (I feel like I've said that a billion times)
After Rosh Chodesh, I did end up going to Tuere's house to see off Jasmine. She did some color blocking with the blue dress and the yellow shoes. I wasn't mad at it at all. Sidenote- Ladies, let's do better in educating these youth about undergarments. Thanks! We got her together as much as we could though. They weren't really prepared since it wasn't her prom. I stayed over there pretty late…laughing, catching up, drinking wine-what most women in their thirties do..
This Week's Assessment: May 19th to May 25th:
This week, I give myself a C. All and all, this week was pretty chill, still haven't heard about my interview status and I had a slight anxiety attack in my sleep on Monday which woke me up, so all week I've been really focusing on self care and good vibes. I've also being hitting 4 out of my 5 action item goals everyday without effort.
Write 3 things I'm grateful for
Read at 10 pages of a self improvement book
Meditate
Random Act of Kindness
Workout for at least 15 mins
Can you guess which one I've been missing? Needless to say I'm excited about this weekend which includes Monday, as every weekend should.
I actually have no plans for Memorial Day and I want nothing more than a whole day to myself. I know it sounds kinda antisocial but I'm tired and my house looks a mess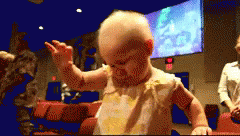 #storyofmylife. I really wanted to take a personal day after the anxiety shenanigans but if I don't work I don't get paid; therefore, I went to work but I'm so glad God has heard my cry. Hallelujah, let the church say Amen.
Next Week's Goals:
Get excited because my supervisor is pressing me out to train someone for my job so I guess I will interpret that to mean that I will be moving on really, really soon. Aside from that, I'm gonna be focusing on finishing my goal of posting at least once every weekday of the month and I plan coming up with a cleaning schedule other than that next week is looking Gucci!
Let me know how you thought I did and if you think I deserved a C, maybe I deserve lower or perhaps, higher. I'd love some feedback so let's get a convo popin in the comments section.
 Beebz ❤