Heeeyyy
YOOOOOOO…It's June 01st! It's my birthday month and I never celebrate but this month I want to and not in the average way but to purposely smile, laugh and dance on that day. I celebrate my star on the 18th so get ready. Another throwback I wanna remember is 17 years ago today, I graduated from high school and I am here! I'm so grateful for that. Some of my classmates didn't make it.
This past weekend I went to my boss' cookout on Saturday and had such a good time just hanging out with her family and friends. This was slightly outta my comfort zone but I pressed anyway and I'm glad I did. Also something else happened that was an accident but turns out that maybe it wasn't, you can read about that here.
This Week's Assessment: May 26th to June 01st:
This week, I give myself a D. While I completed my goal of posting every weekday in the month of May, focusing on my gratefulness and manifesting, I haven't been making as much effort as I could've as I've been slightly preoccupied. I admit, there has been some distractions that have come into the picture this last week…So since I'm a huge sap, I have to say that I've enjoyed speaking to him we'll call him "The Crush" and I smile when his number pops up on my phone. Maybe that makes me sappy or not but I'm naturally a vulnerable person and I'm too old to hide my feelings…I'm excited. I'm just trying to chill, no expectations (wellllll, we need to talk about this on another post) but let's just say I'm pacing myself.
Annnnd…there's something I haven't told you guys about. So my dude from college, if you need a refresher, I talk about it here (he's the first one I talk about). He called me. Yes, I stated that we are still friends and we still are, I guess…or maybe more like associates. At this point, it doesn't matter but the tea is…he called me outta the blue and started talking about marriage. Saying that if I hadn't done somethings that we would've been married by now and asking me why I did those things because he would've married me. This is sooooo outta character for him. He NEVER talked about marriage before. When I was really into him I almost had to beg him to tell me/show me how he felt.
So let's just put it out there…that thing was…I slept with an ex-friend of his. Now, before you throw stones, let me explain. He and the guy were no longer friends and I was no longer talking to him either. I met the friend first and was talking to the friend before even meeting him and when I met him they had just met. So it wasn't like they were lifelong best friends. This same guy also saw up close and personal how he was dogging me. That's not to excuse what happened but it happened. I was hurt, immature and trying to move on.
It sounds horrible, it does. It's not one of my finest moments but I thought we were through and I didn't think it was that bad since I was talking to the guy before him. I was never his girlfriend so I didn't cheat and he had no loyalties to him either because they were no longer cool and because of that I didn't feel that I owed him an explanation. Regardless, it was wrong but at that point it wasn't about him, it was about me moving on. I didn't think he would be in either of our lives again.
So yeah, as you can see throwing that up in my face like 13 years later was quite a shocker to me but I checked him. The fact that he even had that thought was crazy and the fact that he even assumed that I would marry him is even worst. This guy put me through hell and the one or two mistakes I made while we weren't even dealing with each other pales in comparison to all that he put me through. The point I made was if I could forgive him and if it was meant to be he would've been able to look past my mistakes but obviously it wasn't meant to be cause he still feels some type of way 13 years later. Everything happens for a reason and that is soooo not on the table for me. But you know what? As soon as you begin to focus on someone else, everybody comes out of the woodworks. Clearly that's the case. As you can see I had quite a bit of distractions but I'm not gonna lie it was good for the ego.
Next Week's Goals:
Get on track, I finally feel motivated to start working out again so I wanna do that. As always the 5 musts are my weekly priority and to continue to put out content I'm proud of.
5 Musts
Write 3 things I'm grateful for
Read at 10 pages of a self improvement book
Meditate
Random Act of Kindness
Workout for at least 15 mins
Let me know how you thought I did and if you think I deserved a D, maybe I deserve lower or perhaps, higher. I'd love some feedback so let's get a convo popin in the comments section.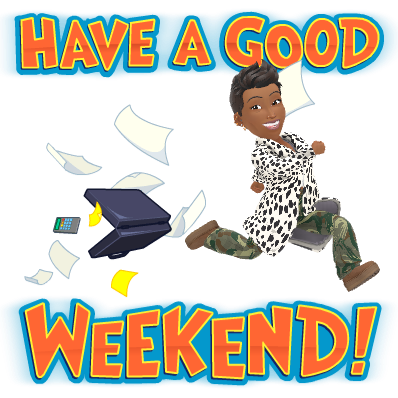 Beebz ❤